Interviewing Community's Jim Rash and Gillian Jacobs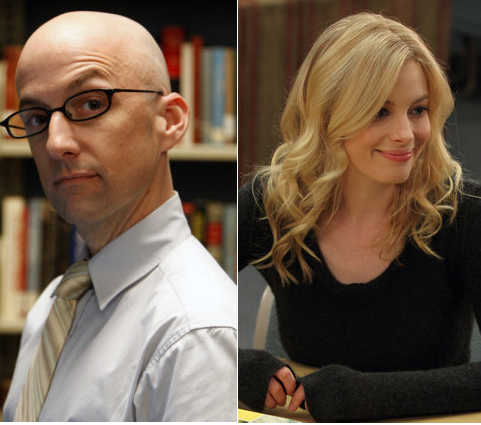 I am literally in love with the entire Community cast. No matter what dynamic duo I talk to-- Brie and Pudi or Harmon and McHale or this week's Gillian Jacobs (Britta) and Jim Rash (the Dean), they are incredibly engaging, chatty and warm. In fact, like Brie and Pudi, Jacobs and Rash are improvisational masters who can't stop improvising. While I tried asking if we'd only see four seasons and a webisode (instead of six seasons and a movie), both Gillian and Jim correctly pointed out they already had several webisodes in the can. It felt very "Who's On First." But, I was the clueless Abbott and they were the knowing Costellos.
I know I shouldn't feel shocked, but, damn, that cast is smart. Seriously, out of the six cast members I've already talked to, I went away proclaiming each and every one a genius. Who the hell is the casting director? They totally deserve a TV Oscar (aka an Emmy). While Gillian impressed me with her intelligence, Jim's casual confidence blew me away. After listening to his amazing 1920s-style radio-quality voice (Katie, you were right), I understood how Jim convincingly pulled off the Dean's "one squat away from revealing everything" costumes. If you wondered, his favorite included the Gaga outfit for Halloween and he suspects the Dean would've rocked a gold paint outfit for the Oscars.
The one thing I love about Community is the continuously fractured, re-fractured, constructed and reconstructed relationships amongst the gang. Although I suspected a possible hint of Jeff and Shirley as more than friends in childhood, I still saw their relationship as another friendship layer, outside Shirley serving as a maternal figure to Jeff. However, Jim talked more about them and his love surrounding the "pairing off [of] certain characters and mining what happens when those two, like whether Jeff and Shirley, you know, and started with Britta and Troy's possible relationship." And, he "would love to see like more of that because it always evolves and changes and finds new things for these characters."
Regarding the show's struggles to stay on the air, Gillian admitted, "We're the little show that could. You can't ever really count us out." Both Gillian and Jim talked about the television writing duo of Neil Goldman and Garrett Donovan (Scrubs, Family Guy) who will leave their showrunner duties. Both executive producers played in Community's playpen since the pilot. They even have two characters, Fat Neil and Garrett Lambert -- "It's still sunny!"-- named after them. But, they recently signed a deal with 20th Century Fox. While Jim called their leaving the "natural evolution" for moving to "the next chapter" of their lives, he feels Community will retain its voice. But, what if Dan Harmon's contract isn't renewed? Jim admits that the show  started as a "nugget" in Harmon's brain, assisted by the  actors. Despite Jim's reassurances, I still wonder what might happen to such a closely written show, if  all three walk away simultaneously? While they hope they receive a fifth and a sixth season, Gillian mentioned as actors they typically "balance between optimism and realism."
Concerning ongoing issues this season, like the Troy-Britta relationship, and what they'd like to see in the future, Gillian complimented Donald Glover's talent while admitting they "have the sweetest hugs on TV. We've really cornered the market on longing looks and really sweet hugs." While she'd love to see Britta's family, Jim would love to see the Dean's apartment.
Don't forget to watch the three-episode Season Finale on Thursday, May 17th tonight, starting at 8PM EST! Look for my dual coverage with Katie!
For a transcript of my mini-discussion with Jacobs and Rash, click to the next page.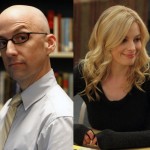 An: Hi.
Gillian Jacobs: Hi.
An: I have a question for Gillian first. Britta has traveled a long way from the stereotypical love interest in Season one to the sanest group member through her insanity today. Both Dan Harmon and Joel McHale praised your comedic abilities on the last conference call. So, could you speak further to Britta's development and growth this season?
Gillian Jacobs: Oh, well, I just feel really blessed with some really great material that I was given in Season three that allowed Britta to further develop and need to unleash my awkward dancing on the world. So, I have really enjoyed her growth and evolution and development and I think that this show is not conventional by any stretch of the imagination, and therefore the role of traditional love interest really has no place on this show. So of course, we have to subvert it and change it and she has to be awkward and silly and strident at times and deeply flawed.
And it's really great to play a multi-dimensional character with shortcomings as strengths, and I'm really grateful that I don't just pine after Jeff Winger.
An: We all are. It's awesome. And this question is for both of you. There has been a big push for six seasons and a movie on the Fan Community, but my biggest fear is that we might just have four seasons and a Webisode.
Gillian Jacobs: We've already done Webisodes.
Jim Rash: Yes, we'll continue the Webisodes.
An: All right, an epic Webisode.
Gillian Jacobs: Oh, an epic Web...
An: Yes, ongoing, you're just filming every day.
Jim Rash: Yes.
An: Are you looking at the fourth season as a last season? Are you preparing yourselves just in case it isn't renewed for the fifth? As you said, it is the little show that could.
Gillian Jacobs: Well, I think that nothing about this journey has been average or predictable. It's like the show itself, the  journey for us as actors on the show. So, you have to maintain this balance between optimism and realism. But, it's already so far exceeded my expectations of what this experience would be like that who am I to predict what's going to happen this fall and beyond?
But, I'm just really grateful that I've gotten a chance to work with the writers, the directors, and the other actors that are a part of this show. And, I've learned so much from them and I've made some really great friends, and I feel like I've come out on the other end a stronger performer and I feel like I went to Graduate School for comedy. So, I -- regardless of whatever happens, I'm just really grateful for the time that I got to spend with these people.
Jim Rash: I don't know if I can say it better than that. Yes.
Gillian Jacobs: Jim didn't need to learn anything. Jim came in a comedic genius.
Jim Rash: I wasn't -- I didn't...
Gillian Jacobs: I needed this show to figure some things out.
Jim Rash: I refuse to learn.
Gillian Jacobs: He's a teacher, did you know that? He teaches at Groundlings.
An: Oh, well, I'll just have to sign up.
Gillian Jacobs: Yes.
Jim Rash: Yes, please, and that's what this call is now turning into. Now, I'm going to sell you on some classes.
Gillian Jacobs: Jim's classes at Groundlings.
An: All right, well, thank you very much. You've done -- you've both done an awesome job and hopefully we will get to six seasons and a movie.
Gillian Jacobs: Thank you so much.
Jim Rash: Absolutely. Thank you so much.