American Idol auditions hit New Jersey: Part 1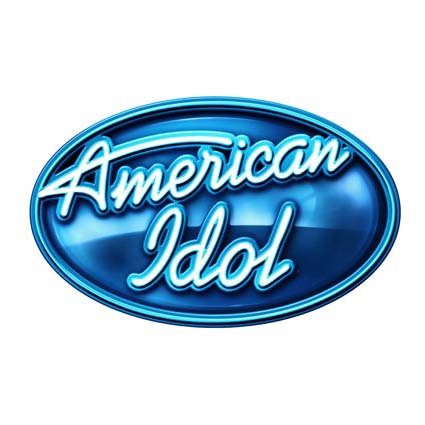 This summer, American Idol kicked off auditions for its 12th season airing in January 2013. The week of June 18th it took its auditions to  Northern New Jersey's Prudential Center, with actual auditions occurring Saturday, June 23.
When you cover live American Idol auditions, there are a couple things you expect: unmediated chaos, interesting characters, human interest stories, fame seekers, dew eyed talent, disappointment, and Ryan Seacrest. Well, this past Saturday's auditions featured every single American Idol staple in spades.
Mediated Chaos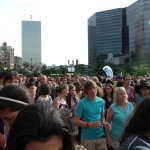 5,000 hopefuls turned out around 5:00am Saturday morning to audition for American Idol. However, despite the number of people on a surprisingly cool yet sunny day, it felt incredibly well-ordered. Even when I jumped into the pen with the waiting auditioners, with a press of bodies around me and Ryan Seacrest at the center, it didn't feel chaotic in the slightest. I didn't sense diva energy, competitive hostility or overt anxiety. Everyone just seemed excited to be there, incredibly fresh and slightly hopeful the judges would recognize their star potential.
Interesting Characters
While most people dressed in their ordinary Saturday afternoon hanging out clothes (including the hipster dudes and the kid-next-door teenagers), the people who stood out rocked hot pink suede platforms, red sequinned miniskirts, patriotic top hats, gypsy chick clothing, and aqua leopard platforms. One top-hatted, wig-wearing character dropped his own personal pearls of wisdom to the surrounding crowd while dressing. Oily skin is good (it looks dewy on camera). Stare into the camera (it makes your eyes twinkle). And, if you try out for the X-Factor, you'll have one camera and one judge in round one, two cameras and two judges in round two, and three cameras and three judges in round three. If you make it to round four, you meet the show's judges. Last year, he reached X-Factor's third round during their Prudential Center auditions and, like most people, planned on auditioning for The Voice if he didn't make the AI cut.
One teenager, accompanied by her Nook reading mom (who looked like her sister), painted one finger the same color as her mother's nail polish while 16-year-old Alexis was a veteran, having auditioned for American Idol's Pittsburgh round at 15, and hoped her rendition of Lean On Me would get her through this time.
Surprisingly, 19-year-old Olivia, a Miss American Spirit winner, was not an American Idol old hat, having decided to wait until she hit age 18 and started college before auditioning this year. Her performance background included shows at the New Jersey Performing Arts Center with her high school choir.
Human Interest Stories
Although American Idol's human interest stories are typically heavy-handed and eyeroll-worthy complete with sepia overlay and violin concerto, it's a different story when you talk to the people face to face. Suddenly, you know why AI wanted to get their stories across.
27-year-old Leandra Ramm, pictured with her fellow musician and audition songwriter Freddy Coscia, initially couldn't audition for American Idol until the police arrested her stalker. Her father is a noble peace prize winner who she never met but whose sperm donation brought her talent to the world (and her to the attention of her stalker when she discussed it on CNN).
Army specialist Romeire Brown planned on singing either Stevie Wonder's Signed, Sealed and Delivered or the patriotic Star Spangled Banner. He considered his audition a tribute to his brother, who he formerly performed with as a singing-rap duo, before the latter was murdered. To make the story even sadder, his brother's birthday fell on the second day of auditions.
For audition results see page 2, for photos see page 3.
Audition Results
I am not a professional performer and my opinion is just that, opinion, without any insight from anyone affiliated with Fox or American Idol.
That said, a lot of the performers who didn't make it through were still incredibly talented. The ones who I heard sing post-Idol auditions, who didn't make it, appeared overtly stylized, didn't have voices strong enough for the grueling process, didn't know if they were entertainers/performers/singers (and expected Idol to differentiate for them), and/or were overtly focused on their gimmick. But, they were all incredibly, incredibly sweet. The initial three kids who made it through reminded me of American Idol's early seasons with Clay Aiken, Kelly Clarkson, and Reuban Studdard. Like those three, these kids looked like the typical American teen-next-door, rocking casual white shirts and jeans, while maintaining an enviable self-possession.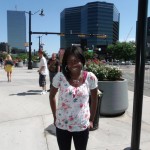 I talked to the Union, NJ high school teen, Sadesia, and the Newark, NJ aunt of 19-year-old Latisha (stage name: Finesse), who made it through. Sadesia carried herself like a professional through the TV press interviews, although she appeared slightly tired at the end. While waiting for Latisha to exit, her aunt listed her neice's capabilities while remaining a positive supporter of the other singers, including one man who proved the only male in a majority female audition group.
I felt sorry for the people who didn't make it through, who looked to American Idol for talent validation. Some appeared resigned and some hurt. While one woman declared she'd never audition for another reality TV show, others stated they'd try their luck with the Voice. Some felt the judges were incredibly fair while others viewed them as harsher than the ones on TV. One woman suspected the judges had a system for the number of people they let through (they didn't) while a previously mentioned contestant felt the judges didn't know what they wanted.
While I don't have advice for any audition hopefuls, one group admitted the judges told them not to stop singing and not to view their decision as any pronouncement on their talent. 26-year-old gold-glitter-dressed Priscilla sang Donna Summer's Last Dance, while 22-year-old floral strapless Bianca, a student, in the floral strapless sang Killing Me Softly. Although Bianca wanted more direction and viewed the outlandish contestants as distracting, she will continue to sing R and B and Jazz locally.
Ryan Seacrest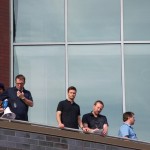 Ryan's presence during the first round auditions surprised me, as he cracked jokes between takes. For Ryan Seacrest fans (or non-fans), be assured, he is quite attractive close up. When I watch American Idol on TV the crowd's response always seemed incredibly impropmptu yet well synchronized and I learned why. I watched, fascinated, as the director megaphone-directed Ryan's crowd interactions. You haven't lived until you've seen Ryan Seacrest driven around Newark, NJ in a golf cart.
Unsurprisingly, after the intial audition rush and the initial decisions occur, it becomes surprisingly lowkey. There's nothing for the press to do but wait, nothing for interns to do but clean up and nothing for the auditioners to do, but go home (tired and exhilirated or tired, dejected yet hopeful). All the same I enjoyed the day, including watching auditioners hang around the Prudental Center balconies while running notes. As a lover of the audition process (almost more than the show itself), I'll definitely tune in in January to see who makes the 12th season. How about you?
For the full photo album click to the next page. See if you can spot your friend or yourself!
Thank you to the press coordinator's assistant, Stefani, who did a great job answering my questions and making certain non-TV press gained access to contestants. Also, a mini-shout out to the local interns who stayed up since 8pm Friday night setting up.